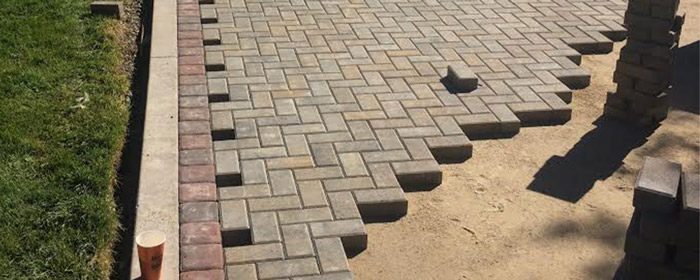 Step-A-Head Landscaping specializes in working with concrete pavers and can bring new levels of depth and functionality to your landscape. Our work on paver patios, retaining walls, paver paths, and other installations can be seen on residential properties across Salt Lake City, UT, and we're proud of our ability to bring custom paver projects to life. 
From practical retaining walls to concrete pavers for bold aesthetic on your landscape, let our experts bring new appeal to your property using concrete pavers. 
Retaining walls:

Retaining walls are both functional and visually striking. In a functional capacity, they're great for both erosion control and displaying estate names or addresses. On the visual side, they add depth and dimension to any landscape. We bring property owners paver retaining walls of the highest caliber, in any size or style they prefer. 

Paver patios:

Concrete pavers are the perfect patio material. Not only do they interlock to form a cohesive surface, they're easier to install than poured concrete and come in numerous colors, textures and shapes for the perfect addition to your landscape. Ask us how a paver patio can transform your yard!

Paver driveways:

Paver driveways are common in Salt Lake City, UT and a great way to put traction and stability under your vehicle's wheels. We install flat paver driveways of all sizes, bringing a regal, upscale appeal to your property through stunning driveway design and immaculate installation. 

Walking paths:

Need a simple path to your side entrance or from the front to the back yard? Paver walking paths are easy to install and bring both utility and beauty to your landscape. Consult with us about the many different types of concrete pavers we offer and the type of path you envision for your landscape. 

Hardscape features:

From imposing retaining walls to beautiful pool decking, walking paths to fire pits and beyond, our capabilities with concrete pavers span any type of hardscape feature you want for your property. Let us help you plan today!
Step-A-Head Landscaping is the authority on concrete paver installation in Salt Lake City, UT. From huge retaining walls to small fire pits, we construct the features you desire to bring your property to a new level of excellence. Contact us today at 801-272-9501 to discuss your hardscaping, sprinkler, or lawn care needs!